Professional Same Day in House Jewellery Repairs!*
Your jewellery was created to be adorned and enjoyed… To fill you with happiness and wonderful memories.
Are you letting your beautiful Jewellery and memories collect dust just because it needs an inexpensive repair?
If you are looking to get a jewellery repair in Victoria BC done right the first time, you might be having a hard time finding someone with the skills and experience to do a professional high quality jewellery repair without having to wait 1-2 weeks… and at the same time not charge you an arm or leg.
We had the same problem until NOW!
Finally we have a Very skilled professional Goldsmith in house and he does exceptionally good work.  (It doesn't hurt that he has small hands that are perfect for doing the delicate and precise work you need done).
Today is the day to bring back the original beauty of your jewellery and enjoy it even more!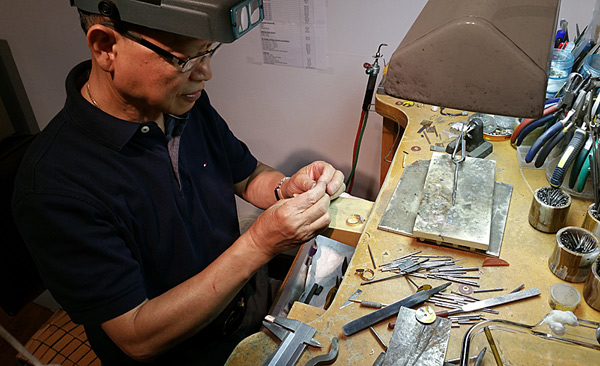 Jewellery Repair Estimates
Come in today and get a free estimate on Jewellery repairs such as:
Ring sizing up or down
Stone setting
Ring claw re-tipping
Chain repair
Clasp replacement/repair
Damaged earrings
New bail extension
Repair previous bad repairs!
Light custom work
Restyle your old piece into something beautiful and unique!
or ???
We really try to have your professional quality repairs or sizing done the same Day!
*More intricate repairs within the next 2 business days… and yes if you have "Wedding Day" type of emergency we will do our very best to make sure you have one less thing to worry about!
We do not usually do full custom design work however, we are always willing to talk to you and discuss your needs. Custom modifications would be more up our alley.
We are quite amazed at what some "custom" designers or big brand companies want to charge you for jewellery repairs in Victoria. Some of these companies actually send your items to Vancouver or "Back East" to have work done and this causes a longer turn around time. Of course you are being charged the full shipping fees in your final repair price as well.
You also have no opportunity to discuss what you want done with the Goldsmith in person if the need arises. If you have a complicated jewellery repair you can only hope they ( the staff ) can convey the correct message to the jeweller the first time.
Note: We actually do jewellery repairs for some of the big companies in town and you can be assured they charge much more than we do…
Visit us today and leave happy knowing your precious Jewellery repair items are in the right hands and is going to be repaired correctly at a fair price the first time!
Once your jewellery has been repaired and returned to good as new, please consider getting it appraised. Maybe you have a old appraisal and should get it re appraised and updated to reflect the current gold and precious stone market values.