How and where do I sell gold for More Cash in Victoria Today?
---
Fast, Easy and Friendly. Get Your Highest Cash Payout in just Minutes!
You may be thinking… Why Should I sell my gold at Old 'N' Gold instead of another buyer?
After 20 years in business here is why…
Guaranteed -Highest Cash Payouts
-No Appointment Necessary
-Private Buying Booths
-Fast & Easy, Hassle Free Service
-Live Visual Chart with up to the minute Prices
-Professional & Confidential Transactions
-Non-Commission Buyers
-Friendly knowledgeable staff
-No Obligation Quotes
-The ONLY gold buyer with a gemologist on staff
-1hr Free Parking @ 743 View st parkade only 1/2 block away
We love to talk about all kinds of Gold, Silver, Platinum, and diamonds in any form such as scrap/broken, jewelry, coins or bullion.
At Old 'N' Gold will beat any local competitor's offer in cash. Give us a No Obligation call right now at 250-361-1892.
Note: For certified pure .999 and .9999 fine gold or silver bars / coins please call us for a live quote.
Warning… Don't sell your gold to just anyone!
Did you know that in the province of British Columbia there are no laws to regulate what gold buyers have to pay you for your gold?
That's right, they can and often will, offer next to nothing for your gold and it is perfectly legal! Unscrupulous gold buyers want to buy your gold for less than 50% of its' actual worth. To protect yourself you really need to find a gold buyer you can trust.
When you find yourself asking, "Where do I sell gold for cash in Victoria BC?" or "Am I really getting a good price?" You will be very happy that you shopped around and came to us for a Free second opinion. Old 'N' Gold has earned a reputation for being Victoria's best place to sell gold, silver, and diamonds for cash.
So, who can you trust to buy your gold (jewelry, coins, dental, nuggets, bars, scrap gold, and large gemstones) for a fair and honest value?
There are too many fly-by-night companies advertising on TV, radio and in the papers, wanting to buy your gold. You have to ask yourself… can you really trust them?
Often when you get to their location you find out that they are actually foreign companies setting up shop for a few days buying as much as they can for the lowest price you will accept and then move on to the next town.
Far too many people are lured in by their 'official' looking advertising only to be taken advantage of. Our smart clients educate themselves and choose to deal with an established reputable company like Old 'N' Gold.
If you choose to deal with just anyone you may end up selling your gold for pennies instead of cash dollars.
Every day we have new clients who come to us and are amazed to discover that we often pay up to double in cash for scrap gold and silver jewelry than other gold buyers.
Why can Old 'N' Gold pay so much more in cash?
Look at it this way… the only way these other gold buyers can make more money is to lure you in with big, fancy advertising and then try to buy your gold for much less and often not pay you in cash like we do.
Simply put… Old 'N' Gold can pay so much more because we do more than just buy gold for cash. We are the largest Estate jewelry store in Victoria BC.
Every day we buy, sell, trade, consign and offer cash collateral loans on gold and silver.
Yes, you do not have to deal with a pawnshop or pricey payday advance stores to get an instant cash loan today!
Old 'N' Gold DOES NOT rely solely on the income from buying gold like these other companies!
Here is an example of a very common comment we hear from our satisfied clients:
My wife and I went to a gold buying event after seeing an advertisement for gold buyers. Luckily we got a second opinion from Old 'N' Gold. The other buyers offered us a check $400. Old 'N' Gold paid us $920.00 instantly in cash!

Get a second opinion I'm glad we did! I am telling all my friends and YES we'll be back.

D, Randell
Needless to say, our clients are extremely happy after receiving a FREE (NO obligations) second opinion!
You really only have ONE option and that is to shop around and truly find the best value when it comes to selling your gold jewelry, or silver for cash. Read that last sentence again… You will never EVER see ANY of our competitors recommending you shop around first in their advertising!
About Us
Established over 24 years ago in 1998, Old 'N' Gold (a local family owned company) has quickly grown into the most referred place in Victoria BC to sell your gold jewelry, scrap gold, silver, flatware, diamonds, and bullion.
With our very knowledgeable and non-commission staff, making the right decision to deal with us is easy.
Not only do we have the knowledge and experience but we have integrity and a reputation for treating you with the respect you deserve.
In just the last year and a half, Old 'N' Gold has paid out well over $1,000,000.00 Yes that's $1 million to our local community. You likely have a neighbour, friend, relative or co-worker that has dealt with, or knows, about us.
Over 52% of our business comes from referrals and repeat business. So we must be doing something right!
How do you sell your gold?
Easy, No Appointment Necessary simply stop by and say hello. We are happy to examine, weigh and appraise your items for free. Then explain the four options we have available for you.
Yes, you have four options. Old 'N' Gold's specialty is estate jewelry. Unlike mall stores or other Jewelers, we Buy, Trade, Consign and Loan Cash against jewelry and fine silver.
You are not left with the only option of receiving the scrap value for your gold or silver but you have options to receive more cash, as we also consider the craftsmanship value in quality pieces.
Guarantee
We Guarantee to beat any local gold buying companies offer in Cash.
Give us a call for the details. Even if you don't sell to us, call us and if you know the weight in grams and karat of the gold we can give you an estimated scrap value (daily).
We don't want you to get taken advantage of… call us and we will try to help make sure you are getting fair value for your items. That being said be aware the current gold market is very volatile and the price can move up or down quite a bit on heavier items every day.
Small and average size rings or chains the difference will only be a few dollars. However larger chains or multiple items sold at once, the difference can be worth talking about a solution like waiting or other options. Give us a call so we can help and inform you today. 250-361-1892
Where are we?
Centrally located at the corner of Fort St. and Douglas our neighbours are the Cactus Club Cafe and the delicious Dutch Bakery. We are also across the street from the Royal Bank head office.
Give us a call now 250-361-1892 or stop by at 706 Fort St. at Douglas.
We LOVE to talk about Gold and there is never any obligation or pressure to sell. Remember you have more options when dealing with Old 'N' Gold and more options means more cash for you!
Free Parking – View st Parkade
Yes Easy 1 hour FREE Parking Downtown! Simply park a 1/2 block away at the View St parkade on the 700 block of View between Blanshard and Douglas. The city gives you your first hour free automatically!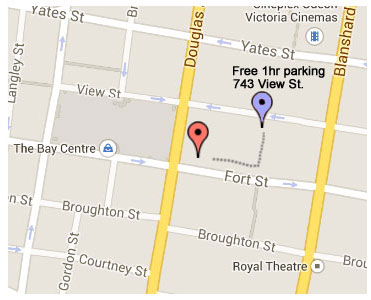 Tip, Walking Shortcut: Simply follow the crosswalk inside on the ground floor of the parkade towards Fort St. Then turn right when you exit the building. Walk a half block to 706 Fort and Douglas.
*Live chart is for reference and if our data feed is incorrect we will find a live spot price together and calculate your value.